2014 Gun Raffle
Nov 12, 2013 (07:59:00)
The Lockport Firefighters Local 1544 2014 Gun Raffle tickets are now for sale! You can purchase tickets online using the PayPal button below, or by contacting any member of our union. Tickets purchased online will be mailed via USPS to the address you provide. In order to help us contact you if you've won something, please provide a phone number in the "Special Instructions" section when using PayPal
Four winners will be drawn each month, one for each firearm listed and two for $50 Gift Certificates to Rink's Gun & Sport. Winners will be contacted via phone. Winning tickets are put back into the hat, so you've got a chance to win multiple prizes!
!UPDATE! Thank you all for the overwhelming show of support! All tickets are sold out, and all tickets purchased are in the mail!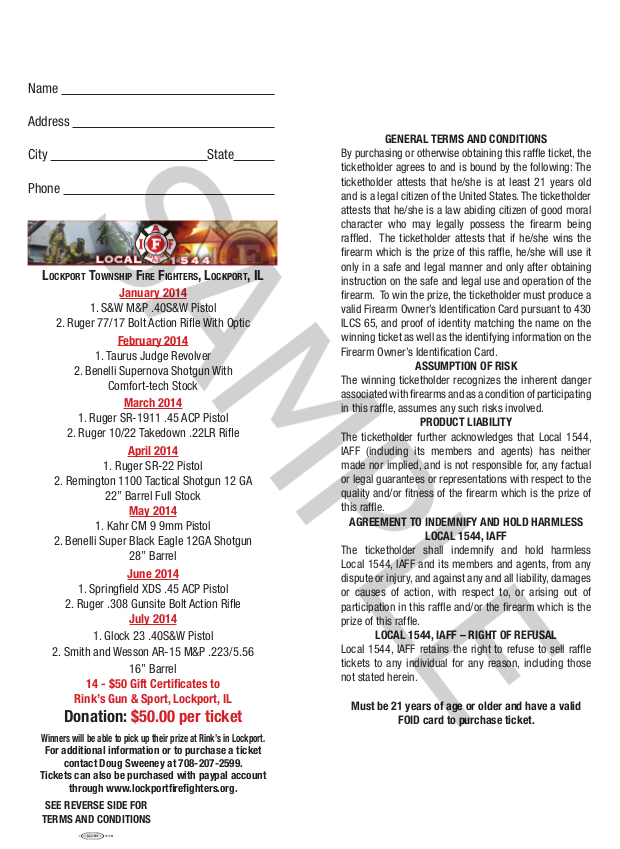 Get your tickets here:
In order to help us contact you if you've won something, please provide a phone number in the "Special Instructions" section when using PayPal
2013 Mailer Raffle
Aug 15, 2013 (21:55:15)
To all those who participated in our annual mail-in raffle fundraiser, the drawing will be delayed until the September 3rd 2013 union meeting due to some issues with the post office. The winners of the raffle will be contacted by phone and or mail. Thank you for your continued support and patience in this matter.
Welcome to the new site!
Feb 24, 2013 (09:11:00)
Welcome to the IAFF Local #1544 Web Site. Our Local was chartered on March 9th, 1965. We are affiliated with the AFL-CIO through the International Association of Fire Fighters (IAFF) and the Associated Fire Fighters of Illinois (AFFI). We are the sole bargaining unit for the Lockport Township Fire District. The Lockport Township Fire District is located thirty-five miles southwest of Chicago and serves a population of about 70,000 residents.
The Fire District currently operates six stations with seventy-eight Career Fire Fighter/Paramedics that serve you 7 days a week, 24 hours a day. We proudly protect the Cities of Lockport, Crest Hill, portions of the Village of Romeoville, along with areas of Homer, Joliet, Plainfield, & Troy Townships.
We hope that you enjoy our site and find the information that you are seeking.
Local #1544 Executive Board